جلسه اينترنتى پناهنده هاى اِل جى بى تى آى + آموزش سلامت
تاريخ: ٢٠.٠٢.٢٠٢١ -٢١.٠٢.٢٠٢١
١.پناهنده هاى اِل جى بى تى آى + درباره سلامتى ( ١٠-١٢ )
٢.پناهنده هاى اِل جى بى تى آى + حقوق بيمار و تبعيض ها ( ١٢:٣٠-١٤ ) براى شركت در جلسه به آدرس اينترنتىhevilgbt@gmail.com پيام ارسال نماييد
التعليم الصحي للاجئين مثليي الجنس عبر الإنترنت
التاريخ: ٢٠/٠٢/٢٠٢١ – ٢١/٠٢/٢٠٢١
١- حق الصحة للاجئين مثليي الجنس (١٠:٠٠ – ١٢:٠٠ )
٢ – حقوق المريض للاجئين مثليي الجنس والتمييز (١٢:٣٠ – ١٤:٠٠ )
للمشاركة في هذا الحدث hevilgbt@gmail.com يمكنك إرسال بريد إلكتروني إلى العنوان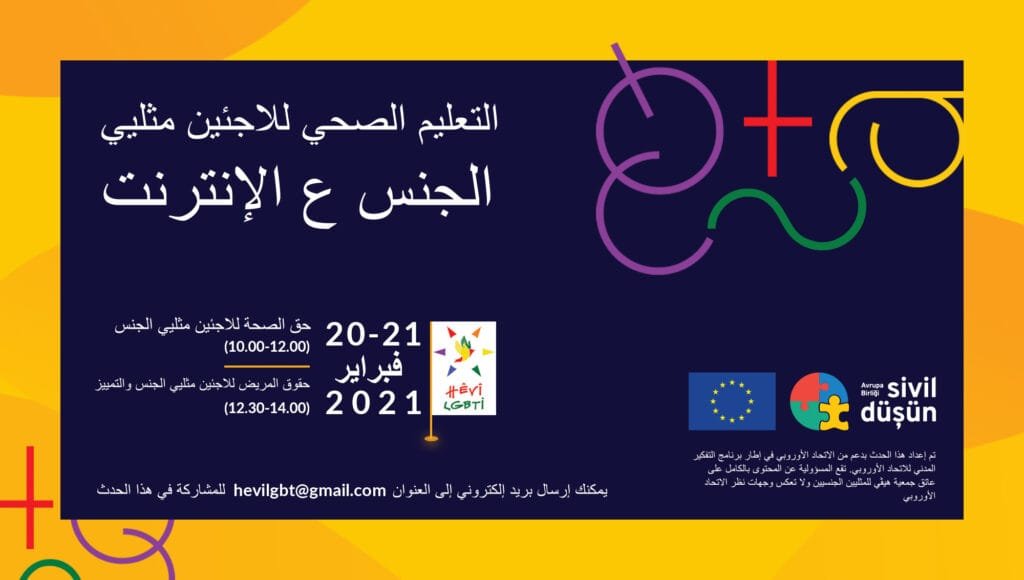 Onlîne Penaber LGBTÎ+ Perwerdehîya Mafê Tendirîstîyê
               Dîrok: 20.02.2021- 21.02.2021
1-Penaber LGBTÎ+ Mafê Tendirîstîyê (10.00-12.00)
2-Penaber LGBTÎ+ Mafê nexweşan û Cihêkarî (12.30-14.00) •Ji bo beşdarbûna çalakîyê hûn dikarin ji navnîşana hevilgbt@gmail.com ê ra maîl bişeyînin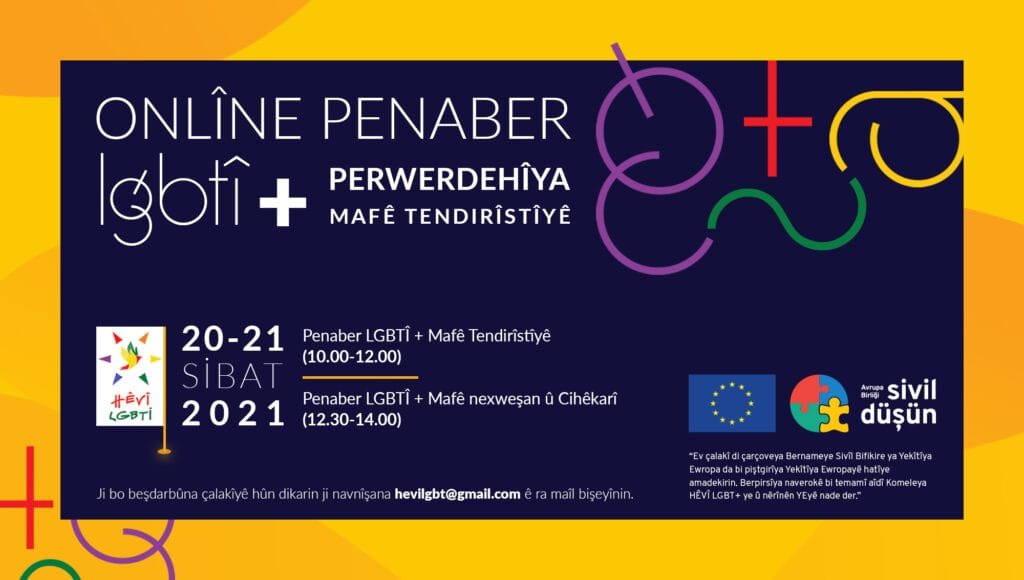 Online Refugee LGBTI+'s Health's Right Education
            Date: 20.02.2021-21.02.2021
1- Refugee LGBTI+'s Health's Right (10.00-12.00)
2- Refugee LGBTI + patient rights and discrimination (12.30-14.00)
* For participation in the event, you can send an e-mail to this mail-address hevilgbt@gmail.com.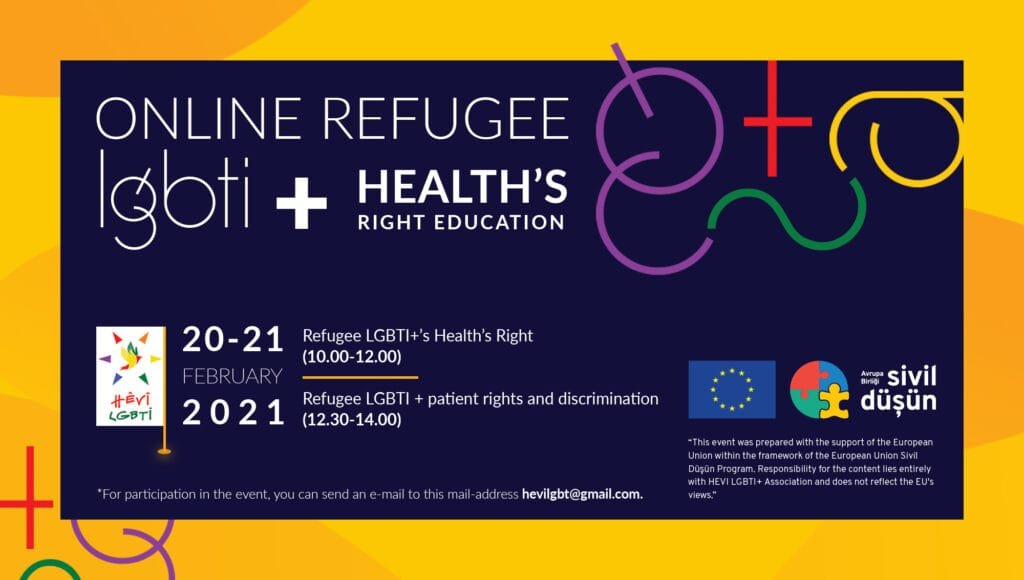 HEVİ LGBTİ+ Derneği olarak Sivil Düşün AB Projesi işbirliğinde online gerçekleştireceğimiz "Mülteci LGBTİ+'lar Sağlık Hakkı" etkinliği
Mülteci LGBTİ+ Sağlık Hakkı (10.00-12.00)
2- Mülteci LGBTİ+ hasta hakları ve ayrımcılık (12.30-14.00)
başlıkları altında iki farklı oturum yapılacaktır.
Etkinliğe katılım için hevilgbt@gmail.com adresine mail gönderebilirsiniz.