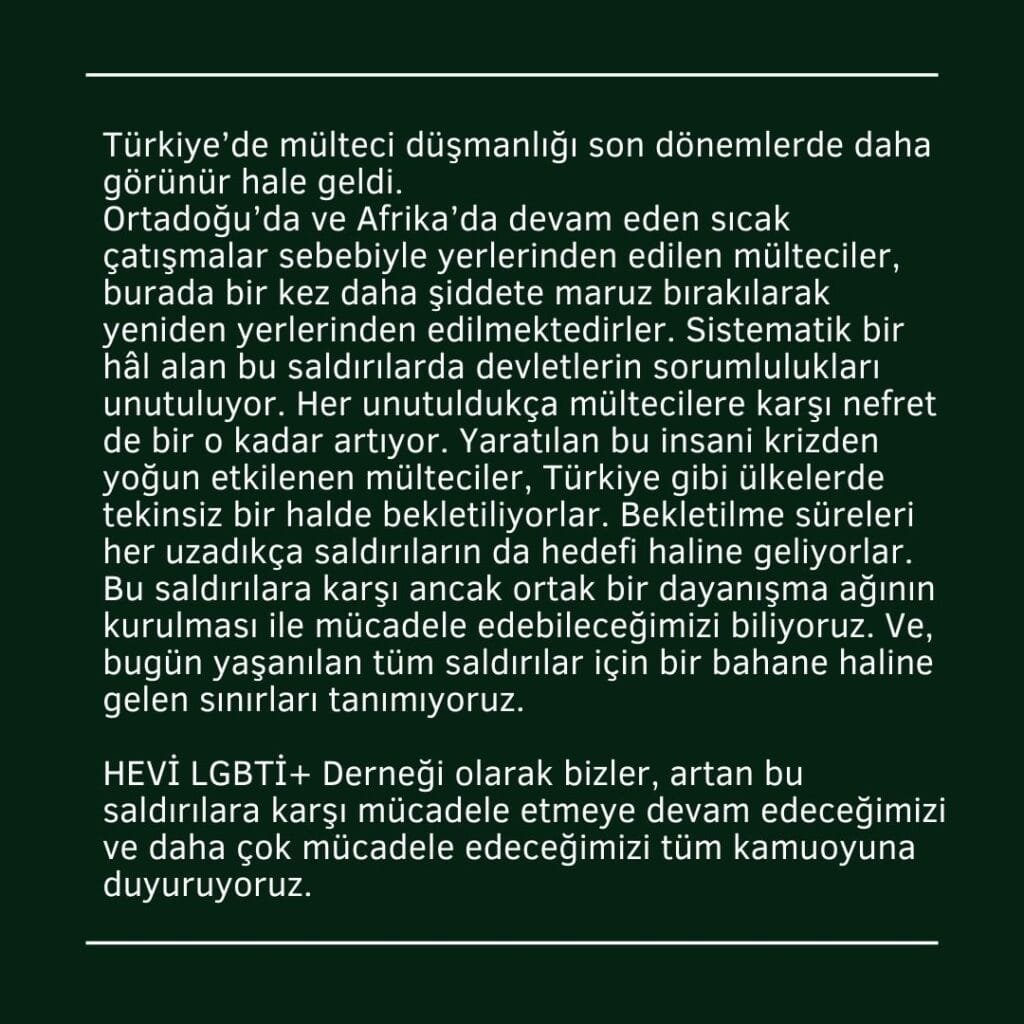 Türkiye'de mülteci düşmanlığı son dönemlerde daha görünür hale geldi. Ortadoğu'da ve Afrika'da devam eden sıcak çatışmalar sebebiyle yerlerinden edilen mülteciler, burada bir kez daha şiddete maruz bırakılarak yeniden yerlerinden edilmektedirler. Sistematik bir hâl alan bu saldırılarda devletlerin sorumlulukları unutuluyor. Her unutuldukça mültecilere karşı nefret de bir o kadar artıyor. Yaratılan bu insani krizden yoğun etkilenen mülteciler, Türkiye gibi ülkelerde tekinsiz bir halde bekletiliyorlar. Bekletilme süreleri her uzadıkça saldırıların da hedefi haline geliyorlar. Bu saldırılara karşı ancak ortak bir dayanışma ağının kurulması ile mücadele edebileceğimizi biliyoruz. Ve, bugün yaşanılan tüm saldırılar için bir bahane haline gelen sınırları tanımıyoruz.
HEVİ LGBTİ+ Derneği olarak bizler, artan bu saldırılara karşı mücadele etmeye devam edeceğimizi ve daha çok mücadele edeceğimizi tüm kamuoyuna duyuruyoruz.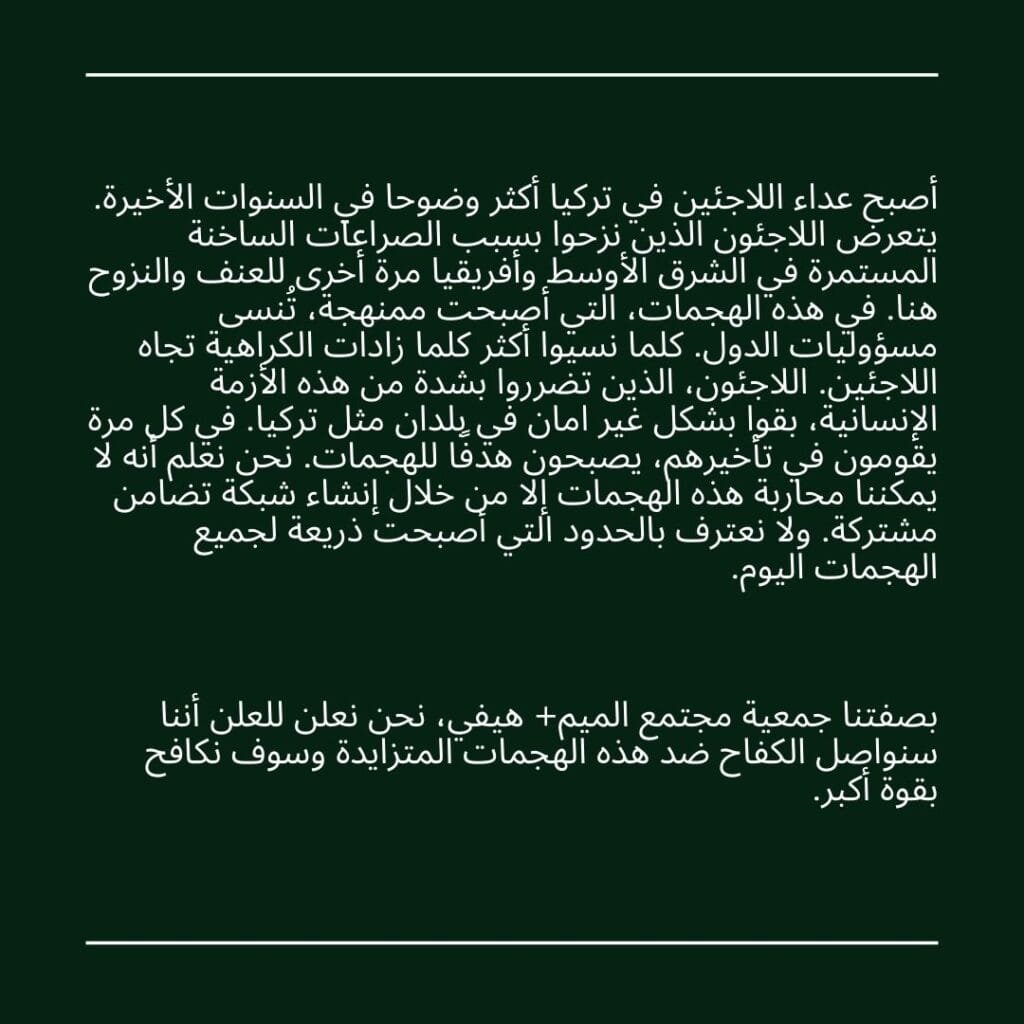 أصبح عداء اللاجئين في تركيا أكثر وضوحا في السنوات الأخيرة. يتعرض اللاجئون الذين نزحوا بسبب الصراعات الساخنة المستمرة في الشرق الأوسط وأفريقيا مرة أخرى للعنف والنزوح هنا. في هذه الهجمات، التي أصبحت ممنهجة، تُنسى مسؤوليات الدول. كلما نسيوا أكثر كلما زادات الكراهية تجاه اللاجئين. اللاجئون، الذين تضرروا بشدة من هذه الأزمة الإنسانية، بقوا بشكل غير امان في بلدان مثل تركيا. في كل مرة يقومون في تأخيرهم، يصبحون هدفًا للهجمات. نحن نعلم أنه لا يمكننا محاربة هذه الهجمات إلا من خلال إنشاء شبكة تضامن مشتركة. ولا نعترف بالحدود التي أصبحت ذريعة لجميع الهجمات اليوم.
بصفتنا جمعية مجتمع الميم+ هيفي، نحن نعلن للعلن أننا سنواصل الكفاح ضد هذه الهجمات المتزايدة وسوف نكافح بقوة أكبر.
اخيراً خصومت ها با پناهندگان در تركيه بيشتر نمايان شده است. پناهندگانى كه به دليل درگيرى هاى دائمى در خاورميانه و آفريقا آواره شده اند، بار ديگر در معرض خشونت قرار گرفته و در اينجا آواره شده اند. در اين حملات كه برنامه ريزى شده است، مسئوليت دولت ها فراموش مى شود. هر چه بيشتر دولت ها فراموش شوند نفرت بر عليه پناهندگان افزايش ميبابد. پناهجويانى كه به شدت تحت تاثير اين بحران انسانى قرار گرفته اند، در وضعيتى عجيب در كشورهايى مانند تركيه نگهدارى مى شوند. هر زمان كه شرايط كمى بهتر مى شود تكرار آنها مورد حملات قرار مى گيرند. ما مى دانيم كه تنها با ايجاد يك شبكه همبستگى مشترك مى توان با اين حملات مبارزه كرد و ما مرزها را به رسميت نمى شناسيم، كه امروزه بهانه اى شده است براى همه حملات.
ما به عنوان انجمن هوى ال جى بى تى آى به عموم اعلام مى كنيم كه به مبارزه با اين حملات ادامه مى دهيم و بيشتر از قبل مبارزه خواهيم كرد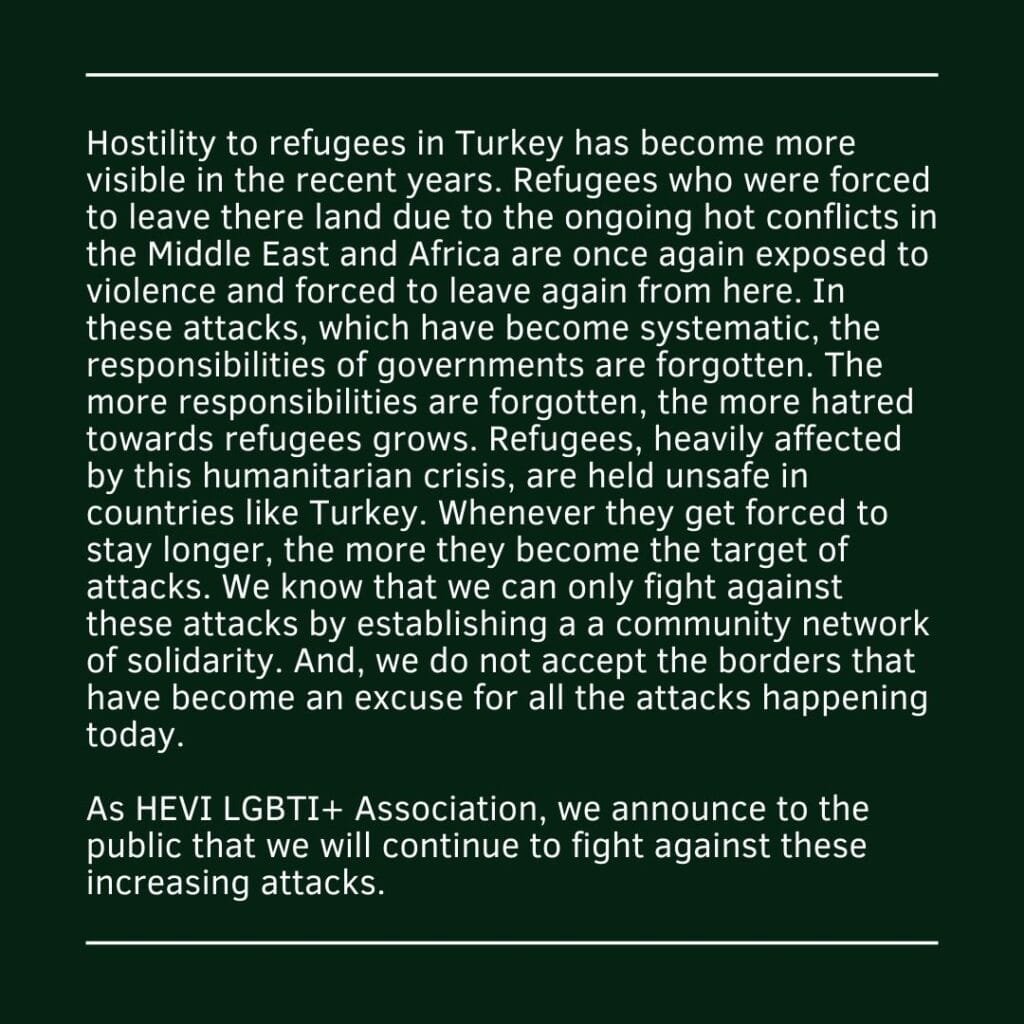 Hostility to refugees in Turkey has become more visible in the recent years. Refugees who were forced to leave there land due to the ongoing hot conflicts in the Middle East and Africa are once again exposed to violence and forced to leave again from here. In these attacks, which have become systematic, the responsibilities of governments are forgotten. The more responsibilities are forgotten, the more hatred towards refugees grows. Refugees, heavily affected by this humanitarian crisis, are held unsafe in countries like Turkey. Whenever they get forced to stay longer, the more they become the target of attacks. We know that we can only fight against these attacks by establishing a a community network of solidarity. And, we do not accept the borders that have become an excuse for all the attacks happening today.
As HEVI LGBTI+ Association, we announce to the public that we will continue to fight against these increasing attacks.