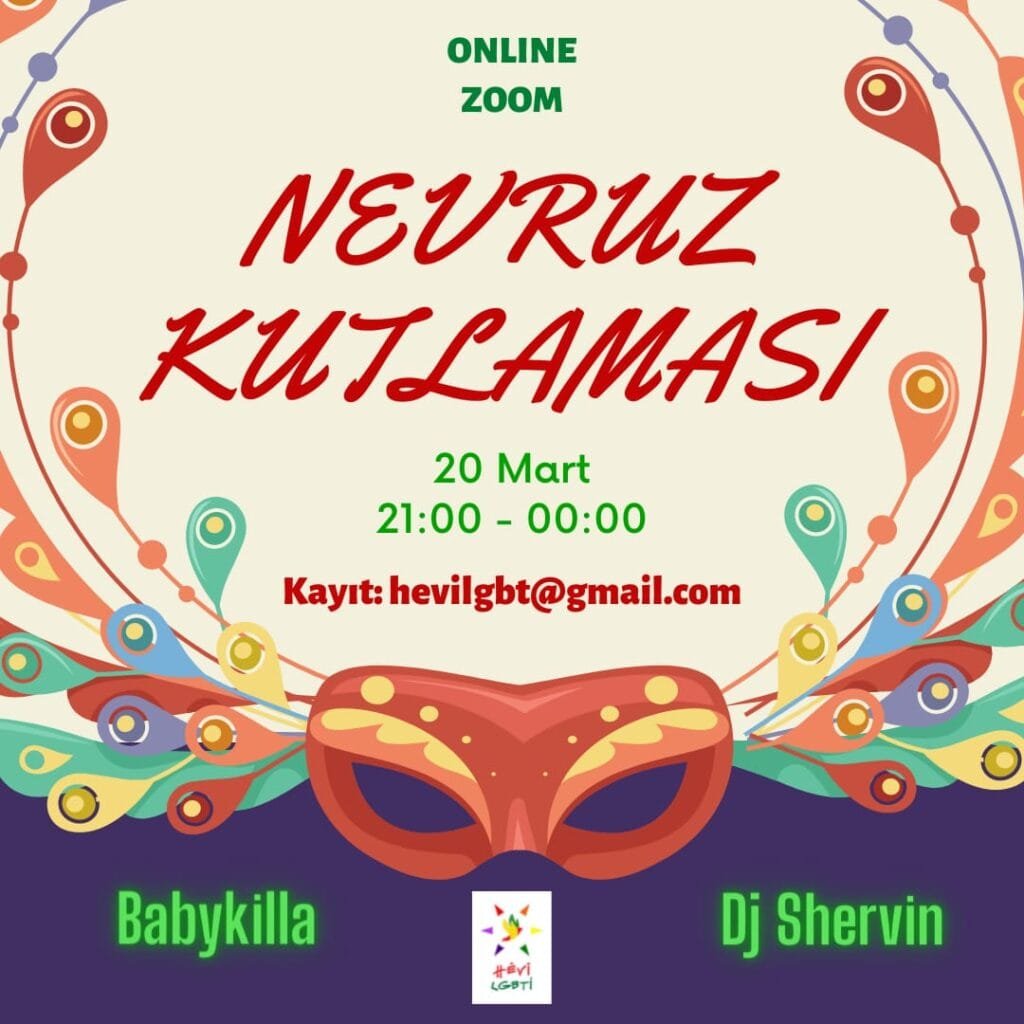 Newroz/Novruz/Nevruz Bayramı; birçok halk tarafından her yıl 21 Mart tarihinde kutlanan yeni yılın, doğanın uyanışının, bahar bayramının simgesi olup kimileri için de isyanın simgesidir. Kürtler, Farslar, Afganlar, Anadolu Türkleri, Arnavutlar, Azeriler, Gürcüler, Kırgızlar, Özbekler, Türkmenler, Zazalar v.b birçok miletçe önemle kutlanır.
Newroz/Novruz/Nevruz Orta Doğu ve Asya'nın pek çok yerinde bazı yerel farklılıklarla kutlanıyor. Şu anda pek çok farklı halk tarafından kendi geleneklerine göre değerlendirilmek istenen bayram, aslında hiçbir halkın tekelinde değildir
Biz; Türkiye'de veya dünyanın herhangi bir yerinde yaşayan çok kimlikli mülteci, göçmen LGBTİQ+lar olarak 20 Mart 2022 Pazar günü Türkiye saati ile 21.00 – 00.00 arasında ZOOM iletişim kanalında bir araya geliyoruz.
Newroz/Novruz/Nevruz'un bütünleştirici özelliğiyle kainatın tüm renklerine kendimizi açıyor, ulaşabileceğimiz her yere canlı yayın ile bir araya geliyoruz. Seni de aramıza bekliyoruz.
Hazırlan lubunya Newroz/Novruz/Nevruz ateşi ile evlerinizi ısıtmaya geliyoruz.Müzik ve dans ile evlerimizde hep birlikte partiliyor olacağız. Sizleri de bekleriz.
Kayıt için hevilgbt@gmail.com adresine mail gönderebilirsiniz.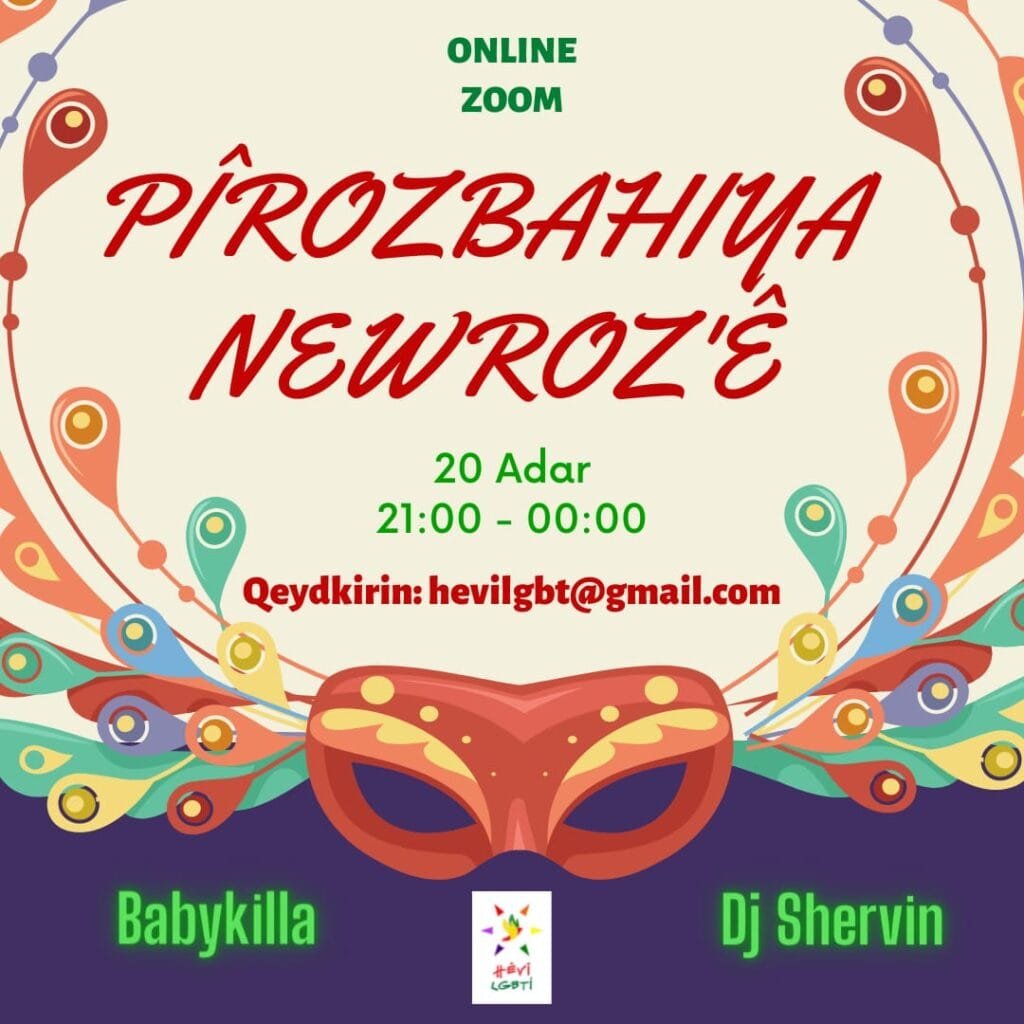 HÛN VEXWENDIYÊ PÎROZBAHIYA NEWROZA ONLINE YÊ NE
Em; Wekî penaberên pir nasnameyî û LGBTÎ+yê koçberên ku li Tirkiyeyê an jî li her deverên cîhanê dijîn , roja yekşemê demjimêr a Tirkiyê navbera 21.00-00.00ê de li ser platforma ZOOMê tên ba hev.
Bo hemû rengên gerdûne bi taybetmendiya yek pare bûna Newrozê xwe vedikin, û her cihê ku em xwe bikari bin bigihîjînin tên ba hev. Di malên xwe de bi mûzîk û reqsê em hemû bi hevre şahînet ê dikin. Li benda we ne jî .
Ji bo qeydkirinê e-mailê dikarin bişînin navnîşana hevilgbt@gmail.com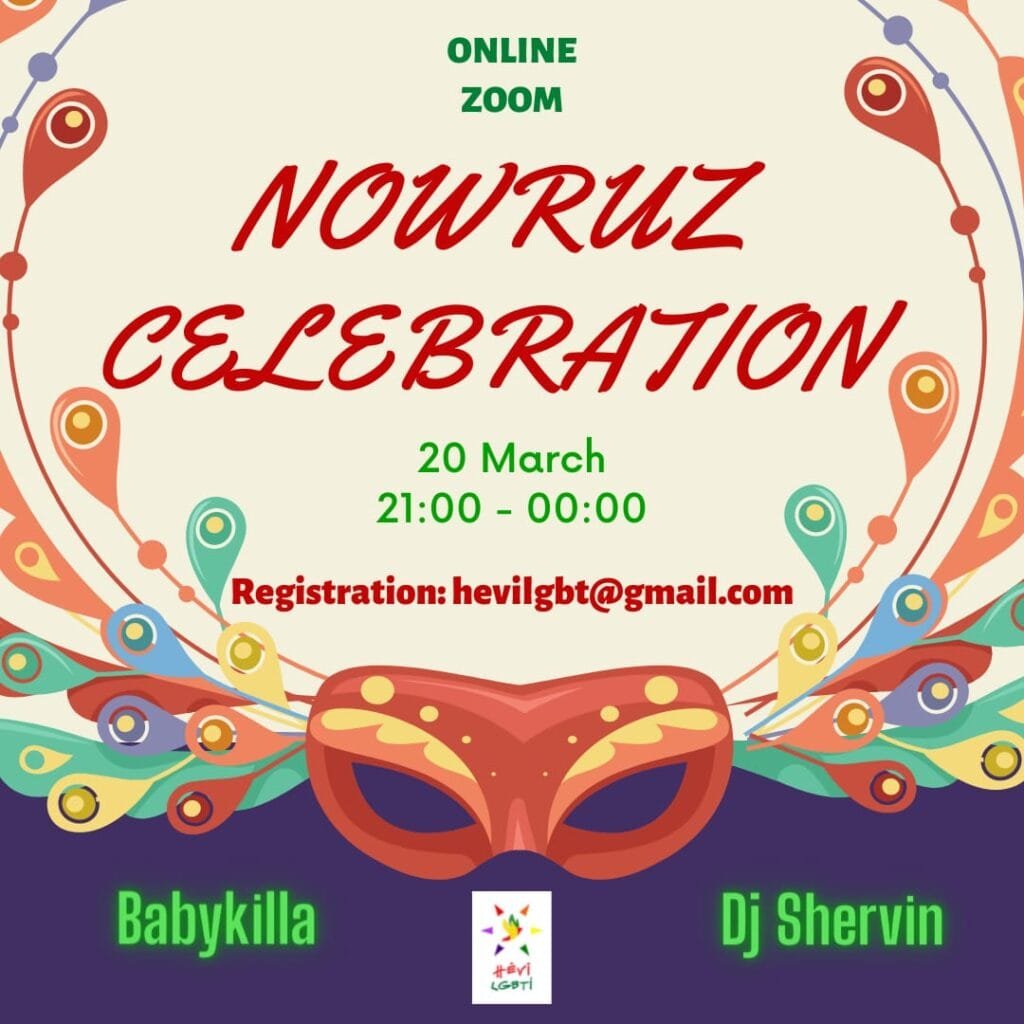 YOU ARE INVITED TO AN ONLINE NOWRUZ CELEBRATION
As LGBTIQ+ refugees and migrants with multiple identities living in Turkey or elsewhere in the world, we are meeting on ZOOM on Sunday, March 20, 2022, between 21.00 and 00.00 Turkey time.
With the inclusiveness of Nowruz, we open ourselves to all the colors of the universe and come together everywhere we can reach. We will all be partying together at home with music and dance. We will be expecting you, too.
You can send an e-mail to hevilgbt@gmail.com for registration.
شما هم به جشن آنلاين نوروزى دعوت هستيد
ما به عنوان مهاجران و پناهندگان ال جى بى تى آى پلاس در تركيه و اقسا نقاط دنيا روز يكشنبه مورخ ٢٠ مارچ ٢٠٢٢ به وقت تركيه از ساعت ٢١ الى ٢٤ از طريق برنامه زوم دور هم خواهيم آمد.
با ويژگى وحدت نوروز را با همه رنگ هاى هستى آغاز خواهيم كرد و از هر جايى دنيا گرد هم خواهيم آمد. همه با هم در خانه هايمان با موزيك و رقص پايكوبى خواهيم كرد. ما منتظر شما خواهيم بود.
براى ثبت نام با آدرس ايميل hevilgbt@gmail.com ارتباط بر قرار كنيد.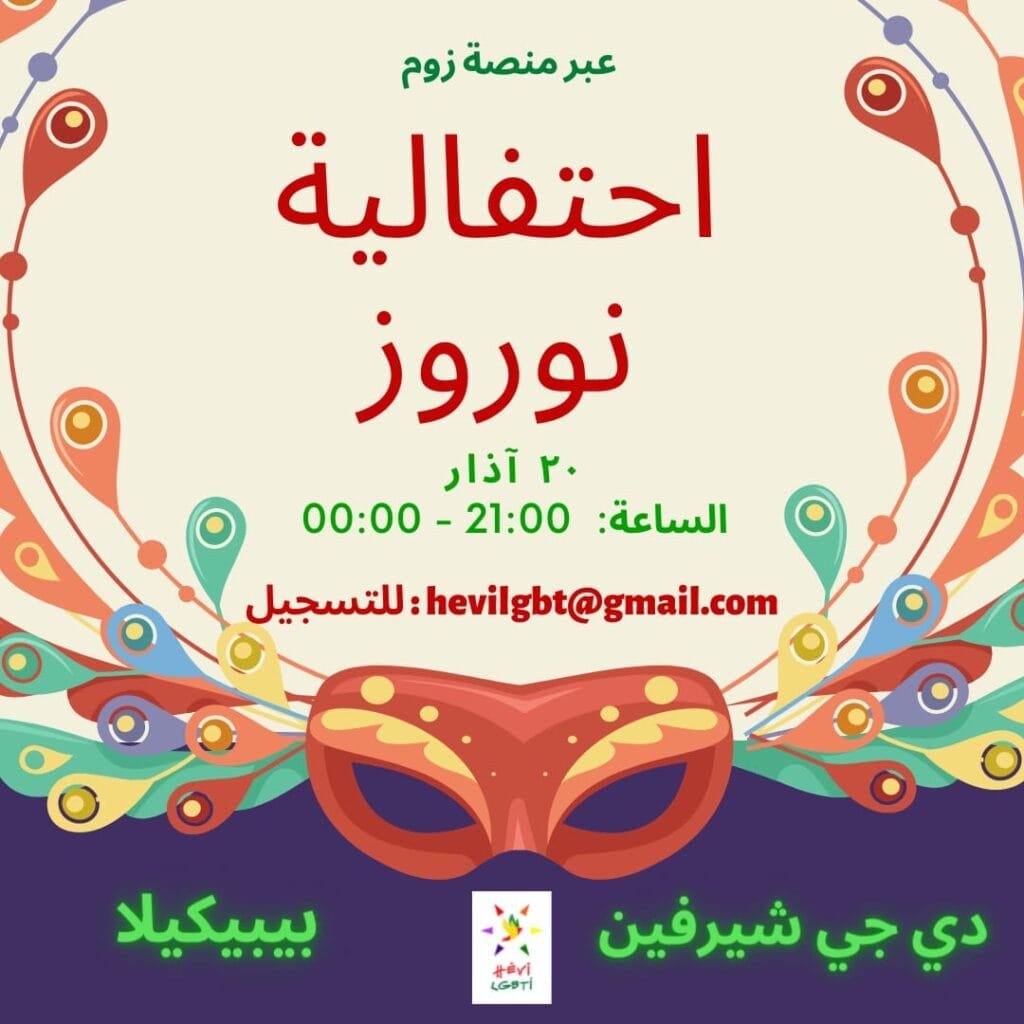 أنتم مدعوون إلى احتفالية نوروز عبر الإنترنت
نحن؛ بصفتنا لاجئين متعددي الهوية ومهاجرين من مجتمع الميم يعيشون في تركيا أو في أي مكان في العالم، نجتمع عبر منصة zoom يوم الأحد، 20 مارس 2022، بين الساعة 21.00 و 00.00 بتوقيت تركيا.
من خلال الميزة التكاملية لنوروز، نفتح أنفسنا لجميع ألوان الكون ونلتقي في كل مكان يمكننا الوصول إليه جميعا. سنحتفل جميعًا معًا في منازلنا بالموسيقى والرقص. نحن في انتظاركم.
يمكنك إرسال بريد إلكتروني إلى hevilgbt@gmail.com للتسجيل.